Taking the Home Office to Costa Rica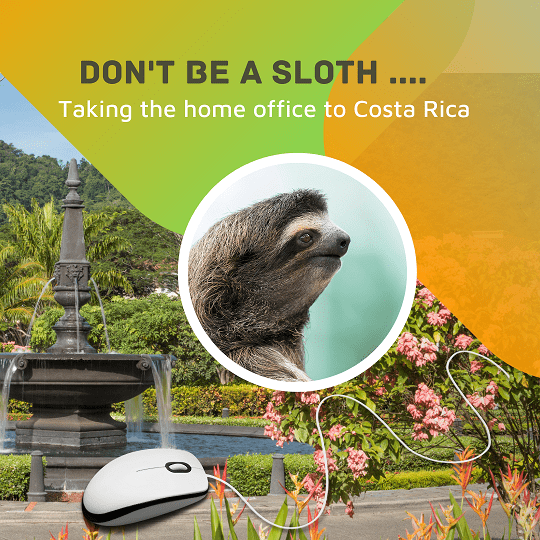 Everybody was touched by COVID 19. Nothing remained the same. People seem to have adapted quickly, technology made it possible and surveys reveal work from home is going to stay.
With the new concept of home office the job all the sudden has become portable.  It invites us to reexamine the way we live. Many people may ask themselves why not trading a crowded city for a beautiful place on a tropical beach?
Not every beach destination present itself for this type of change in scenery. Costa Rica on the other hand is the ideal place to work and play at the same time.
Taking the home office to Costa Rica 
Location, location, location
Costa Rica offers nonstop service from most US major airline hubs. For example it takes just over 2 hours to touch down from Miami or Fort Lauderdale, 3.5 hours from Houston, Dallas or Atlanta; and just over 4 hours for nonstop service from the New York Area. Jet Blue, Delta, Alaska and United announced non-stop service from the West Coast. Most major airlines service the San Jose International airport located in the center of the country. From the San José International airport it is just a one hour drive to reach the Pacific Coast of Costa Rica. If the headquarter calls you for an in office meeting you can be back stateside within a relatively short period of time.
The Pacific Coast of Costa Rica has very well developed infrastructure and you will find several gated residential community mainly in and around the Jaco area.
On the forefront for luxury residential resort style living stands Los Sueños Resort & Marina. This 1,100 acres master planned community has over 700 luxury condominiums, villas and residential lots. Owners come from all over the world with a large percentage of professionals and business owners from the US. With changing times more and more people are making Los Sueños their primary residence.  Work from home makes it possible for many. The resort community was started in 1999 by William Royster, an accomplished developer from California, and is nearing completion. No more new condo projects are planned by the developer but there are still opportunities to acquire a lot or purchase a resale property (www.lossuenosrealestate.com) through the onsite sales office.
What about the internet?
If you are moving to Costa Rica you certainly will be wondering about the internet. Connectivity and speed is everything. Things have greatly improved. For many years the internet was a monopoly. CAFTA brought an end to this. There are now several providers and high speed internet is available in more and more locations. Interruptions have become uncommon and the cost related to internet service a less than in the United States. Comtech Costa Rica has a storefront in the Los Sueños Marina Village and provides technological solution and services for resort residents
Do I need a Visa to work in Costa Rica?
Currently, U.S. travelers visiting Costa Rica are not permitted to stay longer than 90 days. However there is a new law under review in which digital nomads would be given a permit to stay in Costa Rica for a year with the possibility of extending for another year. Costa Rica is a relatively easy country to immigrate to. There are many way of becoming a resident. For information you should contact an immigration attorney. In Los Sueños for example you can find an office from BLP Legal. BLP Legal is one the largest law firms in Central America and have a Global Mobility & Relocation Department.
Location, connectivity, legal status make Costa Rica an ideal locations to consider as your new home office. The real estate market is strong and there are many types of properties to choose from. Places like Los Sueños Resort & Marina are ideal for combining business and pleasure. Imagine it as a small town with all the amenities one would find in the US including an onsite clinic and private schools nearby.
Work we have to do but  why not do it from a beautiful country like Costa Rica?