3 Distinct Benefits of Owning Real Estate in Costa Rica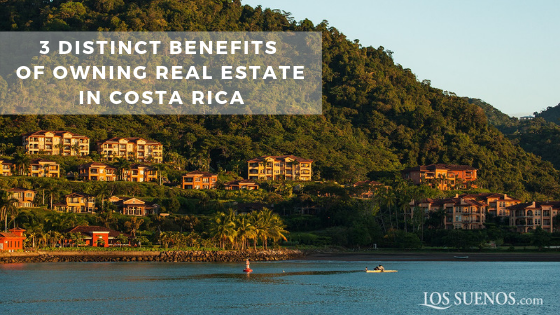 eal estate is an investment in experience. People dream of living in the picturesque country because of everything it has to offer. Buying real estate in Costa Rica can influence all aspects of one's life: It adds such depth and culture unique to the paradisal country. A venture into purchasing real estate in Costa Rica—particularly in Los Sueños—comes with many benefits, a few of which are outlined below.
Benefits of Owning Real Estate in Costa Rica
Luxurious Living
Costa Rica continues to grow as people recognize how wonderful an investment it is to live in the gorgeous country. According to Trading Economics, "GDP Annual Growth Rate in Costa Rica averaged 4.39 percent from 1992 until 2018." If you're looking to invest in a more luxurious lifestyle, Costa Rica real estate is the perfect way to do it. Various areas provide individuals and families with lush amenities. For example, Los Sueños residents receive numerous benefits—from discounts at local restaurants and access to the private beach club to all-encompassing home maintenance and property insurance. When you purchase a high-quality home in Costa Rica, you'll come home to a well-maintained, stress-free abode.
An Enriching Cultural Experience
Costa Rica features a myriad of landscapes. From mountains and farms to beautiful beaches and expansive cities, the diversity in the landscape—as well as in the people and lifestyle—is incredible. Costa Rica's culture is a continuous learning experience about the people, the land, and the history. Living in this country provides an opportunity to experience incredible connection and depth—whether it's meeting different people, strolling through endless beaches, or tasting various foods.
Invaluable Memories
With the enriching cultural experience comes so many unforgettable memories. The adventures you'll find in the country will stick with you and your loved ones for the rest of your lives. The opportunity for positive, diverse memories is definitely something you should consider when it comes to purchasing real estate.
These are just a few of the incredible benefits of owning real estate in Costa Rica that show why purchasing would be such a good investment for you. Los Sueños offers Costa Rica waterfront real estate, which is what so many people come to the country for. The stunning beaches and the culture you'll experience within this resort is something you won't want to miss. Build memories and dive into the enriching culture of Los Sueños, Costa Rica.